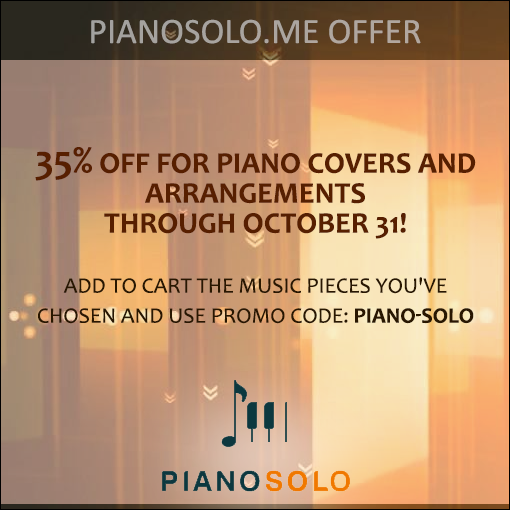 Dear, Friends!
Thank you for choosing PianoSolo! Your loyalty is very important to us, and we'd like to acknowledge it by giving you a promo code taking 35% off any arrangements and covers in our collection .
In future, you will have a chance to get promo codes from our partners or by taking part in our promotions. Stay in touch to keep updated on our events and promos!
Your promo code: piano-solo
Valid through: October 31, 2019

How to use your promo code:
Add to cart the music pieces you've chosen.
Insert the promo code in the empty field below the cart.
The discount will be automatically applied to all items in your cart, except for those on sale (daily discounts are invalid).
Please note that the promo code is valid for only one-time use. For this reason it's important to add all arrangements and covers you are interested in at once.

Enjoy guitar playing and shopping at PianoSolo.me